Best Place to Learn Future Mobility Technology
Upgrade Your Skills With Practical Oriented Training Programs

The world we live in is constantly evolving, with electric vehicles and flight electrification now commonplace, this has created a requirement for new skills. The Emerge Workforce has been involved in future mobility training & Skill Development. We understand the complexities and skills required for the mobility industry. The future of learning begins today with the Emerge Workforce, in collaboration with Devise Electronics, Pune.
With the rise in sales and demand for EVs and an investment of over 2 billion USD in the EV market, the growth of the EV market in India is highly promising. This will create a demand for trained engineers.

With this objective EMERGE WORKFORCE in collaboration with Devise Electronics designed a fully comprehensive 100 days Practical & Job oriented Certification course on
"AUTOMOTIVE
SEED
"
to be held from

09th, January 2023 at Pune, Maharashtra.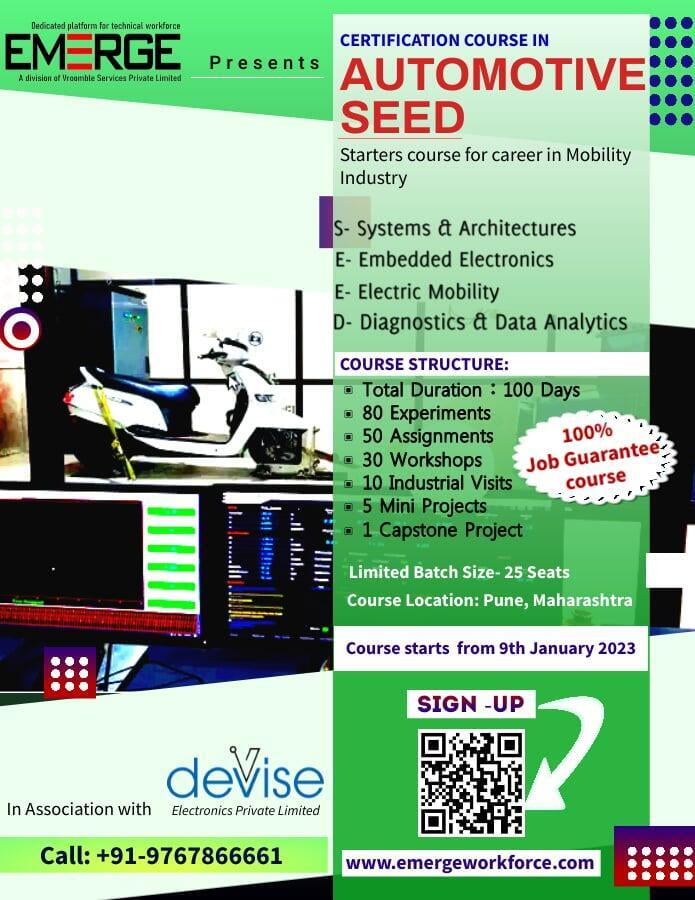 Are You Ready for a Brand-New Identity in Just 3 Months ? …… Join the future mobility revolution by connecting with the Automotive SEED Program
We are a leading Corporate EV training provider, Engaged with Tata Technologies, Tata Motors, KPIT Cummins, Mahindra, MIT, ACMA, MAN, John Deere, Hero Electric, (Automotive Component Manufacturers Association), etc.
What is Automotive SEED Program : -
SEED (Systems and Architecture,Embedded electronics, Electrical mobility, Diagnostics & Data Analytics)
The main focus of this program is on the Automotive EV sector.

This is a comprehensive 100 Days program on Electric Mobility

It provides hands-on training in software & hardware that aid in the design, development, simulation, and testing of Electric vehicles.

The curriculum of the course is designed to develop critical skill sets that are a must for acquiring core technical jobs.

This is Full time, Practical oriented Certificate program.

This Program offers the Jobs in Automotive EV field, after successful completion of the course curriculum.

Certificate-oriented program.
To know more about this program, please contact us on +91-9767866661
No. of Students Registered
10000+
No. of Industries Registered
150+